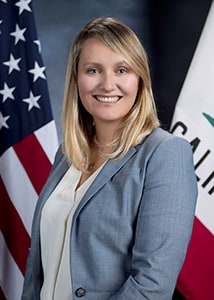 Assemblymember Buffy Wicks represents the East Bay in the California State Assembly. First elected in 2018 and now re-elected in 2022, her district spans the communities of Oakland to Richmond, and includes the City of Berkeley.
As Chair of the Assembly Housing Committee, Asm. Wicks champions the solutions needed to solve California's housing and homelessness crisis. Her work aims to tackle the inadequate housing supply at all income levels across California, encourage the creation of an ongoing funding source for affordable housing, and address the disproportionate burden of the housing affordability crisis on women and people of color. In her first year as Housing Chair, she championed AB 2011 as a critical solution to one of the biggest housing challenges facing California, accelerating housing production for all while ensuring a strong, well-paid workforce is ready and available to build that housing.
Asm. Wicks' legislative work also focuses heavily on expanding our social safety net, championing the rights of women and working families, protecting consumers, and reducing gun violence in our communities. A lifelong community organizer, Asm. Wicks previously served on both of President Barack Obama's campaigns, and worked for him in the White House. She lives in Oakland with her husband, Peter, and daughters, Jojo and Elly.