Asm. Wicks, Supr. Gioia, City of San Pablo convening more than a dozen community-based organizations to provide services, resources for unhoused residents
For immediate release:
Erin Ivie
Director of Communications, Office of Assemblymember Buffy Wicks
510-619-8495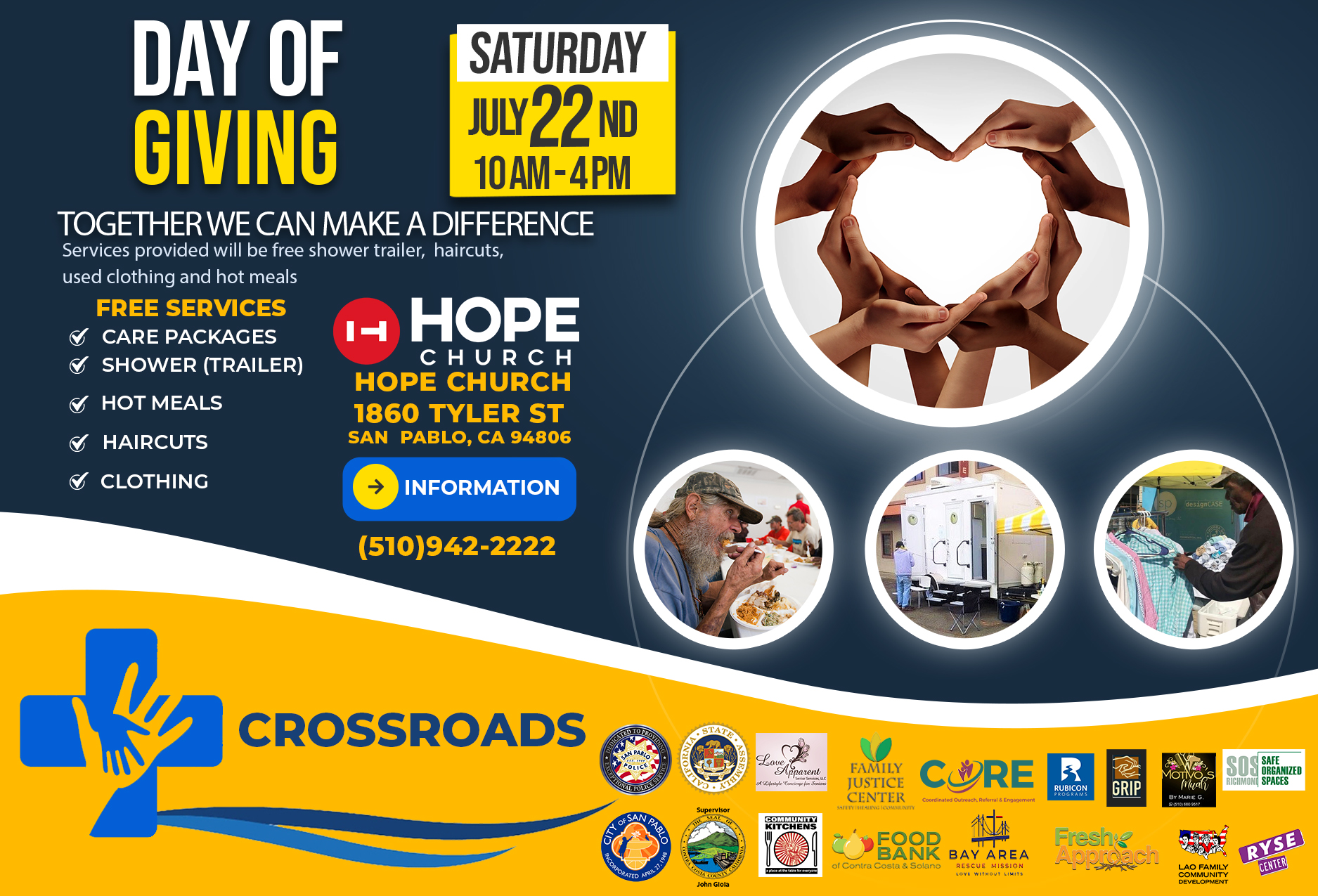 SAN PABLO – On Saturday, the Offices of Assemblymember Buffy Wicks and Supervisor John Gioia will team up with the City of San Pablo and more than a dozen partner organizations to host a "Day of Giving" – a one-stop experience where the county's unsheltered residents can access a range of services. 
The Crossroads event will feature numerous free resources geared toward residents of nearby encampments, including mobile showers, hot meals, haircuts, clothing, and more. The goal is to convene a range of different services and providers in one place, making it easier and more convenient for West County residents to access resources that are typically spread out among various locations. 
What: Crossroads "Day of Giving"
Where: Hope Church, 1860 Tyler Street, San Pablo
When: Saturday, July 22, 10 a.m. - 4 p.m. 
Accessibility is one of the top priorities of the event, and transit options will be among the services provided. A shuttle service will run between Hope Church and area encampments during the event, and AC Transit bus passes will be handed out for future use.

"This event represents how important it is for all levels of government – local, federal, and state – to come together to address the issue of homelessness," said Assemblymember Wicks. "The responsibility of tackling this crisis and providing support for our unhoused neighbors does not belong to any one sector – it belongs to all of us. "
Approximately 2,372 people experience homelessness on any given night in Contra Costa County, 40% of whom reside in West County. The 2023 Point-in-Time Count – a community-wide effort to identify sheltered and unsheltered people in Contra Costa County – identified a 29 percent increase in West County's unhoused residents between 2020 and 2023. 
"Helping our unhoused community takes all of us working together – cities, county and community organizations," said Supervisor Gioia. "This partnership is needed to get people off the street and into permanent supportive housing."
Partner organizations that will provide services at the Crossroads event include the Food Bank of Contra Costa County, AC Transit, Bay Area Rescue Mission, Contra Costa Health Services' CORE program (Coordinated Outreach Referral, Engagement), Family Justice Center, RYSE Center, Community Kitchens, Love Apparent, SOS Richmond, Fresh Approach, Rubicon Programs, LAO Family Community Development, Motivo's, and more. 
The event will be the largest ever convening of such services in its area, one organizers aim to replicate and grow into the future. Their goal is to hold the event biannually moving forward. 
"Together we can serve the community to help the homeless. Positive changes come when nonprofits and government agencies work together to improve their quality of life," said San Pablo City Councilmember Arturo Cruz.

 
 # # #